Register Now!
Or paste this link in your browser's address bar: http://business.rice.edu/leading-high-performance-teams
Leading High Performance Teams – April 17-18, 2018
Overview: High achieving teams leverage strengths and mitigate weaknesses to maximize overall performance and efficiency; whereas, low achieving teams get mired in interpersonal conflict and poor decision-making resulting in compromised performance and organizational failures. In this two-day course, you will analyze the characteristics of high performing teams and develop effective communication, conflict management, and collaboration strategies necessary for leading high performing teams.
This two-day course is for leaders at all levels.
Upcoming Date(s): April 17-18, 2018; September 20-21, 2018
Tuition: $2,900/course or $13,000/certificate for the five-courses total and earn the Graduate Leadership Certificate. Tuition includes class materials and daily breakfast, lunch, and snacks. It is expected that participants have their own health insurance valid in the United States. The university is not responsible for medical expenses incurred by participants during the program.
Promo code for 10% discount: PinkPetro10
Highlights:
Identify characteristics of high performing teams
Communicate effectively with your HRBPs to select the right people for your team
Learn how to mitigate subversive team conflicts and dynamics such as group think
Increase your team's overall sense of confidence in their ability to meet challenging goals
Influence your team to work collaboratively and supportively while fostering each individual's potential
Enhance ability to facilitate on-going high performance
Brand yourself, your team, and your organization as highly reliable
Your Professor:
D. Brent Smith, Ph.D. Senior Associate Dean of Executive Education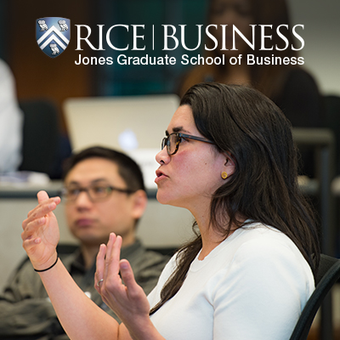 Rice University, 6100 Main St, Houston, TX 77005, USA