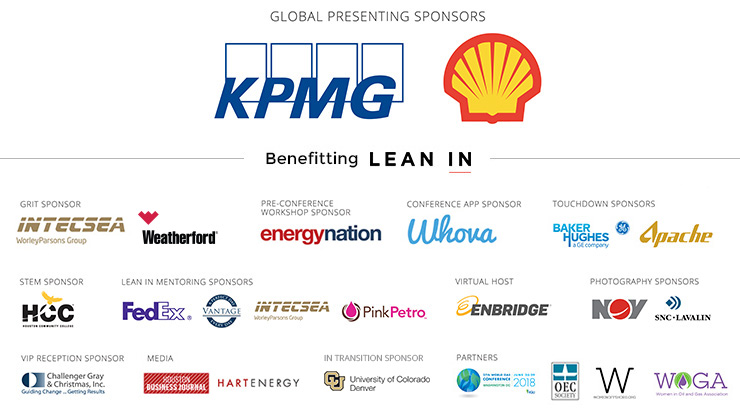 Sponsors: KPMG, Shell, INTECSEA, Energy Nation, Whova, BakerHughes, Apache Corporation, Houston Community College, FEDEX, Vantage Drilling, Enbridge, National Oilwell, Varco, SNC Lavalin, Challenger Gray & Christmas Inc., University Of Colorado Denver
Partners: Lean In, Women Offshore, OEC Society, WOGA, World Gas Conference, Houston Business Journal, and Hart Energy
HERWorld18: The New Energy Playbook - GRIT - Growth, Resilience, Innovation, and Transition
A resilient, reliable, and secure energy future is essential the global economy. It's no surprise the energy industry and the entire value chain is undergoing a transition. New fuels, technologies and innovation are driving opportunities. The New Energy Playbook is about grit. In its 3rd installment HERWorld will invite industry thought leaders and external speakers to the stage to break down the components of the new playbook.
JOIN US ONLINE!
AGENDA: March 8, 2018
Emcee: Linda Lorelle, Anchor, Pink Petro TV
8:00 AM – 8:45 AM Speaker Breakfast: Meet the Coach - The Pre Game Show
Emcee: Linda Lorelle, Anchor, Pink Petro TV

Speaker – Jennifer Welter, First Female Coach in the NFL

Katie Mehnert, Founder and CEO Pink Petro
8:45 – 9:00 AM Break
9:00 – 9:30 AM Welcome
KPMG Welcome, Angie Gildea, Principal, Americas Oil and Gas Leader

Collette Honorable, Former FERC Commissioner and Bipartisan Energy Fellow

Welcome Message, Sheryl Sandberg COO of Facebook and Founder LeanIn.org
9:30 – 10:15 AM The Energy Transition: A New Future Awaits Us
What worked yesterday, won't necessarily work today, and business leaders that have the vision and ability to evolve will be the ones to survive. A new age of social awareness and environmental accountability are here to stay. A new future in energy demands we re-imagine how it's developed, generated, traded, and shared in a responsible way. What companies are leading the way in the fight against climate change and making investments into the next generation technologies?
Pratima Rangarajan, CEO OGCI Climate Initiative

Claire Broido Johnson, President of CBJ Energy and Founder of SunEdison

Holly Hanbury-Brown, Mercedes-Benz Energy Americas LLC
10:15 AM – 10:45 AM Break
10:45 AM – 11:30 AM Using Innovation to Unlock Opportunity
Energy innovation is crucial to solving problems and capitalizing on opportunities in the future. With new technology and discoveries every day, energy companies are pushing the limits of what we thought possible. Significant progress has been made in reducing cost and improving the performance of low-carbon energy technologies, but the scale of the challenge that remains presents one of the most demanding tasks ever undertaken. Whether it's improving the old or blazing new paths, companies and leaders are hearing the call for innovation and accepting the challenge to be more safe, efficient, effective and accountable.
Brian McShane, Senior Vice President, INTECSEA Americas

Allison Lami, Chairman, Rebellion Photonics and Candidate for Texas State Representative 134

Marie Mouchet, Chief Information Officer, Colonel Pipeline, invited
11:30 AM – 1:00 PM Lunch, Networking and Break - Lean In Energy
Lean In Energy, Board of Directors

Founder of Pink Petro, Katie Mehnert

Erika Tolar, FEDEX and Linda Ibrahim, Vantage Energy Services, Board of Directors, Lean In Energy
1:00 PM – 2:00 PM Keynote: Playing Big
Keynote: Playing Big: Lessons in Being Limitless from the First Woman to Coach in the NFL, Welter mixes examples from her own life in sports with practical advice on making an outsized impact—with humor, passion, commitment, and grit.
Jennifer Welter, First Female Coach in the NFL
2:00 – 2:45 PM Resilience: The Race to Reinvent
The rigid falter and the resilient that survive. The last few years in the global energy value chain has highlighted this point to perfection. As prices plummeted, weak companies were exposed, and companies that were built on a solid foundation were able to step to the forefront and turn crisis into opportunity. Is your company resilient? What does it take to build a resilient healthy workforce and culture? Are you trying new things and exploring new ways? Are you able to quickly reinvent what you're doing as the markets change?
SVP of Engineering, Aera Energy, Aimee Blaine

Deanna Jones, Chief Human Resources Officer, Marathon Oil

Marvin Odum, Chief Recovery Officer, City of Houston, Invited
2:45 – 3:15 PM Break
3:15 - 4:00 PM Growth: New Opportunities of Expansion in Energy
As we look to the future, it's not necessarily the ability to scale your business as much as it is knowing "where" and "when" to scale your business and how to manage risk. Times are changing, and while there is growth in oil and gas and renewables, technology and innovation are opening doors for growth in new areas that were never affordable and available until now. Additionally, cybersecurity and geopolitics become new challenges as growth emerges. Where are the growth opportunities and risks in your organization and career? What new mindsets are needed to drive the industry through this new growth?
Kate Sherwood, Senior Director, Grid Modernization, 3M Electrical Markets Division

Colleen Layman, Vice President, HDR Inc. confirmed

Galina Antova, Cybersecurity Expert and Entreprenuer, Claroty
4:00 – 4:45 PM Communication in the Digital Age of Transparency
We live in a world where a single tweet, video or social media post can reach millions of people in seconds and holds with it the power to elevate a brand to stardom or doom it to extinction. In this #MeToo and #TimesUp world, the social age is unravelling truths and fake news that is changing how we engage and more importantly, share and use our voices. This panel will include external media, industry and other experts to talk about how communication and information is changing how companies do business, manage employees and drive advocacy.
Danielle Hunter, Executive VP, General Counsel and Chief Risk & Compliance Officer, C&J Energy Services,

Dr. John Reed, PhD, Executive Coach, Industrial Psychologist, and Author

Laura Noble, Managing Partner, The Noble Law Firm

Tyra Metoyer, External Mobilization, Energy Nation
4:45 - 5:00 PM Closing
4:30 – 6:00 PM The 1st Annual GRIT Awards & Wine Reception: LIVE
Keynote: Women with GRIT, Melody Meyer, Board Director for BP and National Oilwell Varco

Awards presentation to finalists and winners