Register Now!
Or paste this link in your browser's address bar: https://helloalice.com/resources/event/after-the-bite-shark-tank-veteran-founders-share-their-stories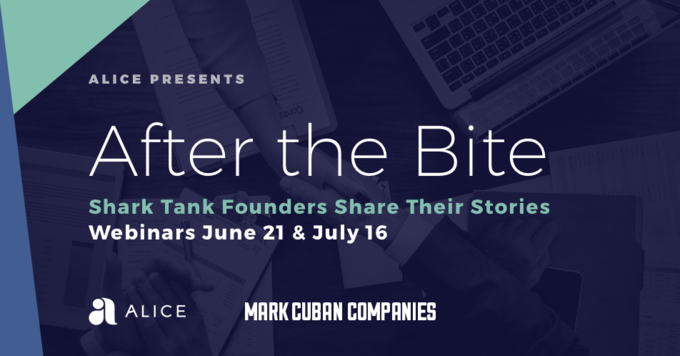 These fearless veteran and military spouse entrepreneurs have all convinced the Sharks to bite and invest in their companies. In this free webinar presented by Alice and Mark Cuban Companies, learn how they started their companies, successfully pitched on the Shark Tank stage, and took their products to market. This webinar--the second of a two-part summer series-- is coming to you on July 16 at 12pm CST.
Register on Zoom after clicking "View Resource" for the July 16th webinar.
Hear from the founders of R. Riveter and Stella Valle
For R. Riveter, what began as two Military Spouses in a small attic, armed with a big idea, one sewing machine and a little bit of canvas, has grown into a bold + achievable mission shared by many: to inspire, engage and empower. The R. Riveter movement captures the humble and courageous spirit of Rosie the Riveter and channels it into every American Handmade purse and handbag they produce. Owned by Military Spouses. Providing portable careers to Military Spouses. Producing quality handbags and purses, hand crafted by Military Spouses.
From the beginning, jewelery brand Stella Valle's vision has been to inspire women to be authentic, achieve their biggest dreams, and have a positive impact on others. As sisters, West Point graduates and Army veterans, Paige Dellavalle and Ashley Jung used their extraordinary experiences as inspiration to co-found and design Stella Valle. The brand is growing rapidly and is universally recognized by major fashion and entrepreneur magazines as one to watch.
Moderator:
Carolyn Rodz, Founder and CEO, Alice
Speakers:
Lisa Bradley, Co-Founder and CMO, R. Riveter
Cameron Cruse, Co-Founder and COO, R. Riveter
Paige Dellavalle, Co-Founder and CEO, Stella Valle