American Express, KCA, PKF, CDW, Thomas Print Works, Techspace, Wipro, Optimum, TorcSill, Strategic Public Affairs, World Oil, Innovate Energy and Pink Petro.
Register Now!
Or paste this link in your browser's address bar: https://www.houstonenergybreakfast.com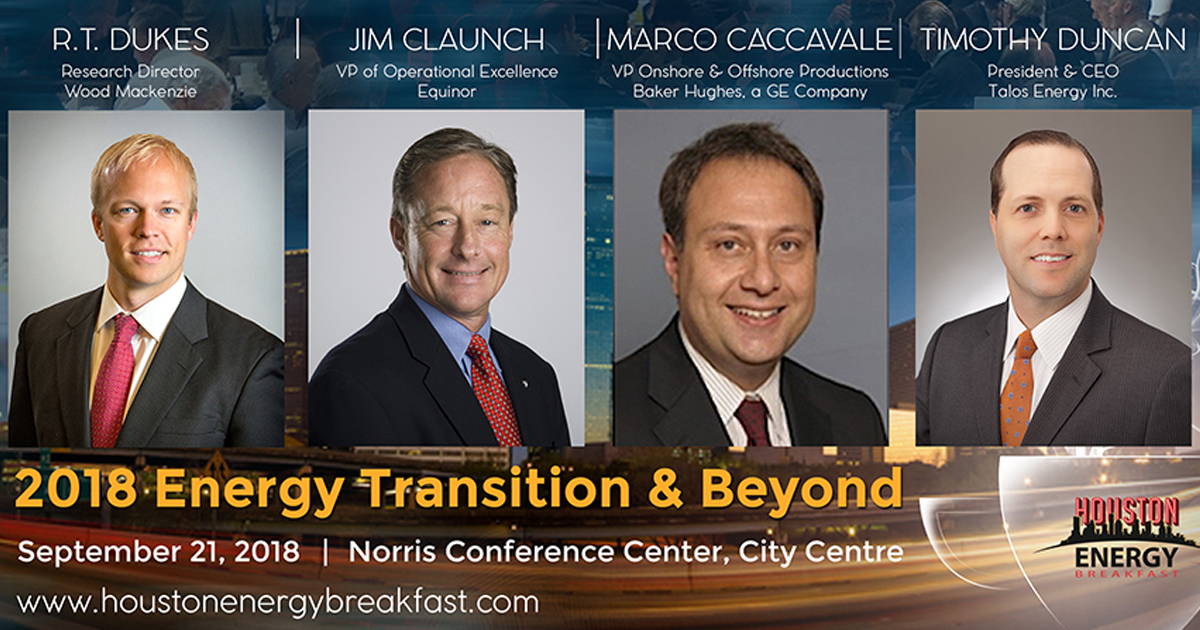 Want a discount? Use code: PINKPETRO
Registration & Networking:6:15 AM
Breakfast:7:15 AM
Presentations: 7:45 AM
Concludes:9:15 AM
Where:
Norris Conference Center at City Centre (Red Oak Ballroom)
816 Town & Country Blvd. Suite 210
Houston, TX 77024 view map
Parking Info
We cordially invite you to join us on Friday, Sept 21, 2018 to hear from 4 experts that will discuss "2018 Energy Transition and Beyond --- Possible Disruptions and What's A Smart Strategy Forward".

Yes, there's a lot of uncertainty in the market but it's also the perfect recipe for optimism. Our highly accomplished speakers can't wait to take the stage on Sept 21, 2018, ready to share their insights and predictions on business expectations that some are calling the "NEW NORM".

As the industry hikes onward into the 2nd half of 2018, don't miss your opportunity to be in the room as we take a deeper look at market trends that are (will be) impacting our future businesses (the coffee ain't bad either).
Visit www.houstonenergybreakfast.com for more details.
This event provides financial support to Junior Achievement Southeast Texas and work place opportunities for returning veterans through the Texas Workforce Commission.
WELCOME TO THE PODIUM:
Marco Caccavale, VP Onshore & Offshore, Baker Hughes, a GE Company
Marco Caccavale is the Vice President Onshore & Offshore Production for Baker Hughes a GE company, where he leads global business line focused on Turbo machinery and Process Solutions for Upstream field development and production life cycle services.
R.T. Dukes, Research Director Lower 48 Upstream, Wood MacKenzie
R.T. manages the company's detailed analysis of major upstream developments through the North American Key Play service. He also serves as a North American advisor for the company's Macro Oils (Oil Price Outlook) service. Mr. Dukes specializes in play description, decline curve analysis, production forecasting, and economic modeling. Full Bio Here
Jim Claunch, Vice President of Operational Excellence Development & Production USA & Mexico, Equinor
Mr. Claunch joined Equinor (formally Statoil) in 2009 as Vice President of Global Business Services in the Houston office and subsequently held VP of HR positions in Norway and in Houston. He has over 25 years of experience in the energy sector including 14 years of international experience serving in various financial and shared services roles. Full Bio Here
Timothy S. Duncan, President & CEO, Talos Energy, Inc.
Tim Duncan is the President and CEO and a founder of Talos Energy Inc., which was recently converted to a public company from a private one formed in March 2012 and initially funded with up to $600 million of private equity commitments from Apollo Global Management, LLC and Riverstone Holdings LLC. Headquartered in Houston, Texas, Talos is engaged in the acquisition, exploration, development and production of oil and natural gas properties with a focus on operations in the Gulf of Mexico, including the shallow waters of offshore Mexico. Since inception in 2012, Talos has grown from 5 original employees to over 350 employees with over 150 MMBOE of Proved reserves and >50 MBOEPD of net production. Full Bio Here